2022 Outstanding Maine Coon Cattery – Florida Maine Coons!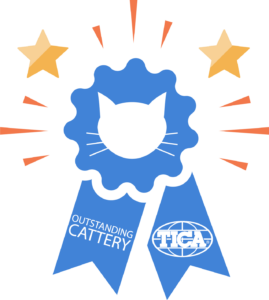 Hard work – Persistence – Clean and Safe Environment – Happy Customers – Happy Cats
"The TICA Florida Outstanding Maine Coon Cattery designation has AGAIN been awarded to OptiCoons and MajestiCoon Catteries from TICA for the year 2022." This award signifies that OptiCoons cattery and MajestiCoon cattery breeds only the highest quality healthy kittens within the stringent TICA standards in an ethical manner.
Florida Maine Coons by OptiCoons breeds "Authentic" Maine Coons of Various Colors and Patterns, Reds, Silvers, Blues, Tabbies, Torbies, Smokes, Shells, and Torties, all extra large, these kittens are often described as "WOW" by our customers, followers and peers, bred to impress from the day they are born from outstanding Males and Females with strong and genetically clean bloodlines along with up to a 5-year health guarantee.
Our kittens are bred in a healthy and ethical environment within our closed cattery with our own males and females. We are guided by TICA standards and local professional veterinary care. Health Tested, Adorable, and very Affordable.
As responsible Maine Coon Kitten breeders, we will provide you with education, lifetime support, transparency, and many other choices that work for you when you are looking for Maine Coon kittens for sale in Florida