At Florida Maine Coons by OptiCoons TICA registered Cattery located in Dunnellon, Florida we consistently provide Healthy, Happy and Affordable European Maine Coon Kittens 
with outstanding pedigree's and health records.
Cattery visits are welcomed and encouraged when we have kittens, all visits are by appointment only.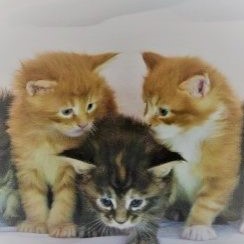 We promise to always provide personalized service with timely and honest opinions and answers to your questions. At OptiCoons our values are centered around producing high quality Maine Coon Kittens that are healthy and thrive while providing you and your family with a fantastic experience from these gentle giants. View what our customers are saying on out FaceBook Page.
Our pedigreed European Maine Coon Kittens are not only affordable but they are adorable. Our kittens are every bit as authentic, playful, large and as healthy as any cattery and in many cases superior to others with our adherence to following the TICA breed standard that offer kittens for much more money. Our Breeders come from highly respected Maine Coon catteries in Europe that are our important partners in producing Dynamic Maine Coon Kittens here in Florida.
We believe everyone should be able to afford a Beautiful Maine Coon kitten.
Get in touch and we'll get back to you as soon as we can.  We look forward to hearing from you!
Looking to see if we have Kittens available? Click Here
Looking to Join our Waiting or Reservation List? Click Here
Want to learn more About OptiCoons Cattery and Florida Maine Coons? Click Here